Where Can Escorts Advertise?
The current uncertainty surrounding EROS and other US-based escort ad platforms has left many US escorts wondering if their businesses will be around for much longer. Many of you think it's getting scary because EROS is a big site and no one knows if it is getting shot down, and you are getting tired of trying to figure out new sites to advertise on.

You can check out Escort-Ads, we are European based and owned company, with over 645,000 monthly visitors from US.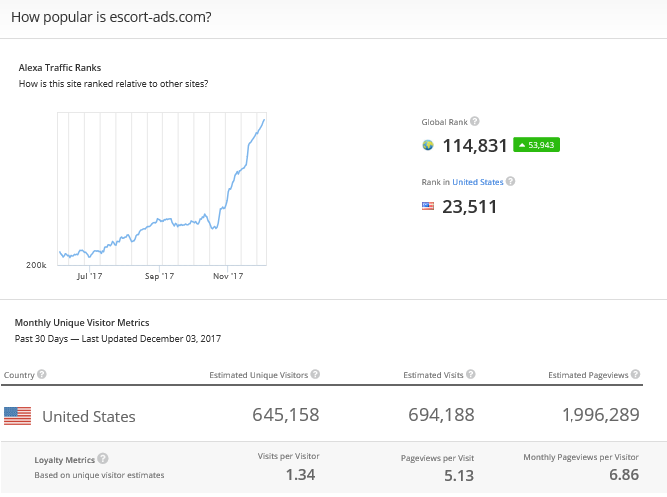 ID is not required to register, you can verify your profile, but all the info is deleted from our servers right after verification. There is an option to pay with bitcon, it offers complete anonymity.
We offer some of the most cost effective adult ad packages on the internet. The basic ad is only $6 per month!
Between now and November 30 when you buy any Featured ad package, you'll get an additional 25% off using the coupon code NOV25 at checkout.
We tweet your Featured Ad randomly throughout the day 24/7, you will be included in our VIP twitter list on our @EscortAds_ verified twitter page where we have over 24.8K REAL twitter followers.
Plus, every time you log in to your profile you get Available Now position, and we have auto-tweets set up for online profiles and ads.
We also have free ad option, you can edit your profile page any time, you can change your base city any time, and you can add city tours for free.
There is an Interview section, and you can add Blog post from your account. The best blogs are displayed on our Home Page.
We have over 19,000 active registered male members, and many satisfied clients.
Our customer support team is ready and available to help you with your account needs. To contact us you can call us at 1-917-732-2400, or you can send an email to help@escort-ads.com.

xoxo
Escort-Ads Team