January Newsletter
Happy New Year from Escort-Ads!
Thank you all for an amazing year! Thank you for all your love and support!
Here's to an amazing 2017!
It's a New Year and that means a fresh start, rather you have resolutions or personal goals in mind that you want to achieve, there is no better day to start than today!
Here at Escort-Ads we want to help you get the results you've always wanted. We offer a wide range of advertising options, Premium Ads, VIP Ads, SUPER VIP Billboard Home Page Ads, Top Banner Ads, Premium Banner Ads, Text Menu Links, Article Publishing, Blogs, Interviews, Reviews, etc.
We offer some of the most cost effective adult advertising packages on the internet. The Basic Ad package starts at $6/month. Ad Prices
We offer our Advertisers a discount when you pre-pay for multiple months on your ad.
10% discount if you prepay for 3 months

20% discount if you prepay for 6 months

30% if you prepay for a full year in advance
Discounts apply to all featured ad packages as well.
January Promo
Between now and January 31st when you buy any ad package you'll get an additional 15% off using the coupon code
NY15
at checkout as our gift to you for New Years!
The return you get on your Escort-Ads ad is enormous!
Our site gives you exposure with an elegant presentation that is optimized to attract high quality viewers. Free updates are available to give you additional exposure, such as Online Now, Interviews and Blogs giving you the best return on your advertising buck! Finally, we market our site in the appropriate places online to bring you relevant visitors who are looking to book an appointment.
Escort-Ads has reached the #1 spot in Google for many major industry terms and keywords. We are also seeing considerable improvements in our page authority, (current score 49) resulting better rankings in search engines. Domain Authority is a score that predicts how well a website will rank on search engines.
Look at our user demographics for the past 30 days
58% are between the ages of 18-34

34% are between the ages of 35-44

53% have annual income in excess of $100K

67% are college graduates
We had 1,896,405 visitors in December
1.United States – 653,262

3.United Kingdom – 58,162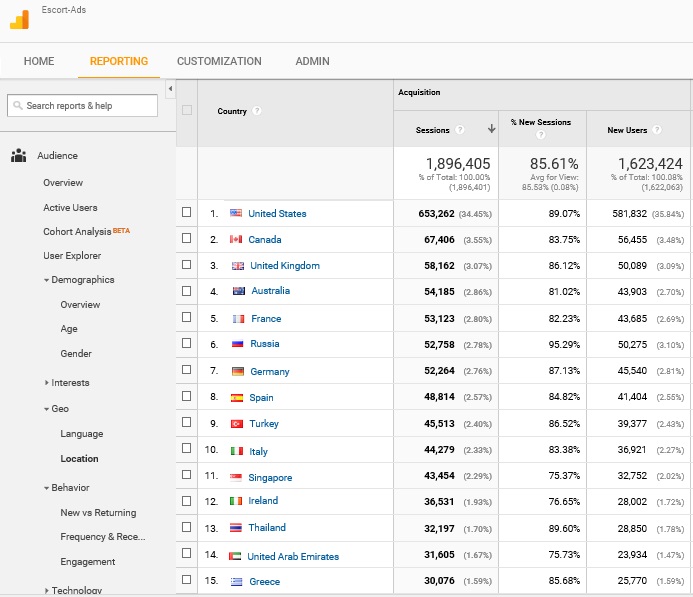 We are tweeting about you!
Our Twitter community is growing quickly (we have over 24.2K followers) and we are giving you more exposure for free by Tweeting your ad to our followers. We Tweet you on our main

@EscortAds_

account when you purchase any Featured Ad package. You will be automatically included in our VIP list

https://twitter.com/EscortAds_/lists
If you are not currently following us on Twitter—you should! We send out weekly special deals through Twitter that can save you money!
We wouldn't be here without you!
It has been an amazing year and we are deeply grateful to you for being a part of our growing Escort-Ads community. We wouldn't be here without you! Our primary goals this past year were to listen to your feedback on how we should improve our site to meet your needs, and to better understand how we can improve your advertising experience overall. This is something we will never stop working on as we launch improvements based on your feedback, so please keep it coming!
"What the new year brings to you will depend a great deal on what you bring to the new year." -Vern McLellan
Best wishes from the Escort-Ads Team