SESTA Update - list of solutions
The Senate Just Passed a Bill That Puts Sex Workers In Danger.
The SESTA-FOSTA bill makes platforms more liable for their users' speech, and that's not good for anyone.
The internet just became a more hostile place for sex workers, victims of sex trafficking, and fans of internet freedom: The Senate voted 97-2 to pass SESTA on Wednesday, making websites liable for what their users say and do on their platforms.
The solution is to go the other way, to decriminalize sex work!
We are safe for US providers!
We are based in Europe, we do not have offices or call centers in US, we are hosting in Europe (in Amsterdam, because the Netherlands has long been a leader in the battle for privacy and data protection), and charging through EU banks (Switzerland and Germany) no connection to US, we are safe for US providers.
Escort-Ad
s in an international website, but we do get the most traffic from the US.
Here is a list of solutions and direct resources to assist you.
It could take few days for SESTA and FOSTA to go into action, so keep calm and use that time to change things.
We've always been smarter and we will survive!
*WordPress started shutting down Escort Websites as of this morning. (March 26)
It is the best offshore adult web hosting, prostitution in the Netherlands is legal and regulated.
The price is very low, only $2.99/month. You will get a free cPanel, 24/7 support, they solve all problems within a minute.
99.9% uptime, and they offer free migration.
They accept PayPal, Bitcoins (via BitPay), Credit/Debit cards (via 2Checkout), PerfectMoney, WebMoney and Skrill.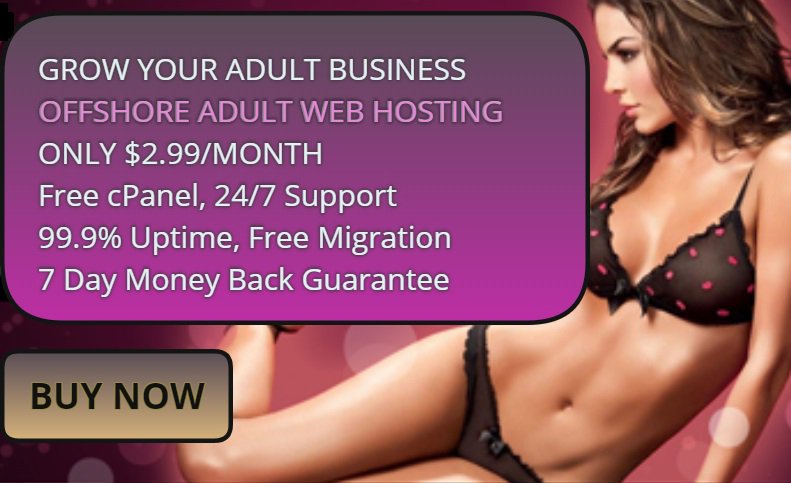 Do not use .com, .net, .biz, or .org.
Regardless of where your site is hosted, US has total jurisdiction over those domains.
Avoid registering domains that are handled by VeriSign or Afilias. Almost all of the domain seizures so far have come with the involvement of VeriSign.
VeriSign operates .com, .net, .cc, .name and .tv , while Afilias operates .info, .org, .mobi, .in, .me, .aero, .ag, .bz, .gi, .hn, .in, .lc, .me, .mn, .sc, .vc and more.
So, now that we've ruled those out, what else should we be looking for? Here are some bullet points.
-Countries with military mutual defense agreements (NATO, etc).
-Countries with high levels of corruption.
-Members of the ECHELON signals interception/monitoring pact (AUS/CAN/NZ/UK/US).
-Countries with large amounts of debt.
-Countries of medium size.
-Militarily neutral countries.
-Liberal countries with a high freedom index.
-Countries with high levels law and order.
This is by no means meant to be an exhaustive or authoritative list, but here are some candidates which meet all or most of the criteria:
The most neutral country in the world, Switzerland seems like an obvious choice. .ch is administered by SWITCH Information Technology Services.
They also manage the .li (Liechtenstein)
*There is no privacy protection available for .ch domains, so you can't hide your name from a general public.
Due to the registry restrictions, WhoisGuard cannot be used with .asia, ..bz, .ca, .ch, .cn, .uk, .co.uk, .de, .eu, .in, .me.uk, .nu, .li, , .fr, .sg, .com.sg, .org.uk, .us, .es, .com.es, .nom.es, .org.es, .com.au, .net.au, .paris, .vote, .voto, .xn, .nyc or .org.au domains.
This is a pretty obvious one as well. They're an independent country with low debt, high stability and they're the birthplace of the political pirate movement.
E-Residency is a secure digital identity from the Republic of Estonia, which provides access to the country's advanced digital infrastructure and e-services.

This won't give you the personal right to register a .eu domain because that is restricted to (physical) residents of the EU. However, e-Residency enables you to start and manage an EU company online from anywhere in the world, even if you are not an EU citizen. Your company will then have the right to register a .eu domain or receive a .eu domain
-Nowhere/Everywhere: .onion
For those seeking complete anonymity and autonomy in their domain name of choice, there is the '.onion' domain name, for sites which are only accessible on the Tor anonymity network. These websites are very, very difficult to locate and knock off-line, and anybody can set one up for free, but they're also only available to users who have Tor installed and running. Perhaps not the best choice for your escort website, but a good choice if you want to publish information under the veil of anonymity.
How might your identity be discovered?
To understand how to set up a website anonymously, you must first appreciate that your identity might be obtained via:
-The WHOIS record for any domains you register.
-Your IP address (sent in the header of emails you send and found in server logs).
-Your service providers' account records (i.e. hosting, domain registrar, ISP).
-Your credit card details or other payment method.
-Your Google Analytics account information (if tracking more than one site).
How can you eliminate most of these things?
The simplest and best way to eliminate many of these things being used to identify you is this:
Don't register a domain or pay for hosting at all.
Instead, register with a free blogging platform who give you a subdomain when you sign up.
You can protect your IP address to a degree using a VPN whenever connecting to the Internet, or by using the Tor network. You should turn the VPN or Tor connection on before registering for any services and while using them.
Be aware that some free blog providers will delete blogs that might be deemed offensive. Read their terms and conditions before signing up and take backups of your content if it's important to you.
Register the domain using an anonymous registration service (not the same as domain privacy).
There is a Swedish company who offers anonymous domain registration for $40/year. They're the company who hosted The Pirate Bay and Wikileaks websites, and have a good track record of not interfering or giving out customer data unless what you're doing contravenes Swedish law, which makes domains and sites hosted with them somewhat resilient to take down orders.
Use an anonymous hosting service that allows you to register under a pseudonym and without providing a postal address.
Consider using hosting and registration services that support pre-paid methods that don't link your identity to the payment method (cash, bitcoin)
Each of these items alone will not protect your identity from someone determined to discover it, but together they will make it harder to find out who you are.
Be careful about using Google Analytics and other third-party services. If you use Google Analytics, you should know that it's possible to do a 'reverse Google Analytics ID lookup' by putting your site's URL into services to find out what other websites you're tracking with the same Google Analytics account. This could potentially unmask you if you're not protecting your identity on other websites you run.
The Whois privacy is barely a protection - most registrars will surrender your personal details at the first request. Well, perhaps at the second. Anyway, the point is, they are generally unwilling to take risk and get under fire so they won't bother to investigate who is right and who is wrong.
A more reliable and a long-term option includes registering an offshore company and running your site in its name. There are ways of keeping the list of owners (or at least the list of beneficiaries) very private so that even investigations at the government level may turn empty.
The safest way is to use a Hidden Service on the Tor-network with a .onion-domain. Unless you give out personal details yourself, it's impossible to trace back to you.
For your domain names use a registrar outside the US.
If certain SEO or brand related issues are holding you back from avoiding these TLDs, Google will not punish your site if you have a .ch or .eu extension.
Avoid using a US-based domain registrar. Do not choose the traditional GoDaddy's of the USA. Choose a Spanish, German, Dutch, or even Chinese registrar for your domains. Recent evidence shows that courts in the US will order companies like GoDaddy to hand over your domains without even notifying you.
Avoid hosting your site with US companies.
ICANN.Org has a comprehensive list of alternative top level domains that the US doesn't control. (pick a domain in a country where sex work is legal)
Uniregistrar Corp

is in the Cayman Islands and have a few domains available. (.live, .xyz, .space, .site, .link, .sexy,)
Google might be under pressure to crack down on consensual sex workers. This applies to both regular accounts and Google suites accounts.
Use ProtonMail for email. Make 2 accounts, one primary and one recovery.
Encourage clients to do the same so your communications are encrypted.
If you are seeking advice on how to survive on the internet in under SESTA, there are some great tips on Twitter:
My First Tweet & Welcome To My Page..

I've been approached & questioned heavily my thoughts on FOSTA... Here is a step by step guide on how to stay safe if advertising avenues are shut down.. Provider & Contributors just read #retweet & do exactly what is listed below!

— TheHarlotAdvocate (@HarlotAdvocate) March 10, 2018
from @SadistHailey
I've been researching the shutdown of sex workers accounts by Google for the last couple of days, and here's what appears to be happening.

— Hailey Heartless (@SadistHailey) March 14, 2018
from @VuaArt
True to my nature, I had to find solutions. Here is a list of solutions& direct resources to assist us. It could take from 90 days til 2019 for #fofsta #sesta to go into action so keep calm&use that time to change things. We've always been smarter than the govt! 1/2
RT pls! pic.twitter.com/flI2rn40Qy

— Art on Hiatus (@VuaArt) March 21, 2018
and hashtags like #letussurvive that appeared on Twitter as the means to show how people are unhappy for the SESTA / FOSTA bills.
Don't use iCloud or Google Drive for your images.
Do not store your content on Google Drive. This is a violation of their TOS and they may delete your account without warning.
Google is legally allowed to hand over your data to the police whenever they wish, or LE can purchase your data from them like any other customer.
With the patriot act, the government can request any of your private information.
Also, it's generally not a good idea to accept google gift cards from clients because if they dispute the charge or report the card stolen, it can make you unable to claim cards in the future.
SpiderOak is an encrypted photo cloud service.
Boxcryptor allows you to encrypt files before uploading them to your cloud service and works with Google Drive and iCloud.
It protects your data in the cloud with end-to-end encryption.
Encrypt your website, make sure it has SSL (secure socket layers)
Anyone who owns a domain name can use Let's Encrypt to obtain a trusted certificate at zero cost.
Every time you use your IP address from an unsecured device in an unsecured network you are opening yourself for a direct takeover of both your device and your data.
You should use a reliable VPN provider whenever possible and from all devices that are connected to the internet. Having a VPN will give you considerable benefits for a very small dose of work.
Install a VPN an all of your mobile devices and computers.
Use VPN servers to hide web traffic.
If you want extra security, we recommend LE VPN.
It is the #1 VPN in Europe, the most advanced VPN in the world. (High speeds, advanced security and ease of use. Instant setup.)
Le VPN helps you to remain anonymous and protects your Internet privacy.
With Le VPN, you can hide behind numerous IPs based in 114 different countries and enjoy private browsing. With an anonymous IP, your real IP will be replaced with their server's IP address, making it almost impossible to detect your real IP, geolocation, Internet service provider and other private information. Moreover, their advanced security techniques with government-level encryption will protect your Internet connection from prying eyes.
No one will be able to listen to or control your Internet traffic, no matter what type of connection you are using and what you are doing.
Right now they have a Spring Special going on: Get Le VPN 2-year plan for $69.60 or $2.90/month.
Some important facts when using a VPN service.

Stay safe!
The VPN that performed the best in all categories is ExpressVPN.
The rankings of the best VPNs are based on extensive test results to check for IP address leaks, DNS leaks, connection issues, app performance, reliability, speed, and whether the features work correctly.
Never use your personal phone.
Use a burner phone for work calls and text only.
Don't publish this number online unless you don't mind disposing of it.
If it's published, don't travel with this phone.
A number of popular apps have come along that make encryption as easy as texting. Among the most secure is Signal, an open-source software for iOS and Android.
Here is a great article

A step-by-step guide to protecting your private phone number while enjoying the security of encrypted texting app Signal.
Clean up your websites and social media of any key terms and abbreviations (gfe, pse, incall,...etc) be vague.
It may lose clients, but better safe than sorry.
If you want to delete all your tweets without deleting your account, you can do it with TweetDelete, it will automatically delete posts older than a specified age from your Twitter feed. This allows you to delete all your tweets all at once (up to 3,200 tweets), and helps make it easier to delete multiple tweets in one go.This can be configured to automatically delete Tweets after a set amount of time, weeks, months,...etc.
Also, there's an app called TweetEraser that offers a service to search and delete tweets in bulk.Once you've signed into Tweet Eraser, you can filter your tweets based on date, keyword, and hashtags. You can then select individual tweets to delete, or select all those within your search parameters with one click. Be patient, it can take a while.
Don't post nudes or anything detailed about work on social media, try to make your account seem like a "normal" one.
Get certified as some type of consultant (happiness, sex, relationship, life,...etc) and market yourself as that.
Don't brand yourself as an escort.
Be careful of where you advertise.
Rewrite your ads, especially on sites based in the US. (the safest is to remove your ads from US based websites)
Avoid trigger words and anything sexually explicit.
Escort-Ads is based in Europe and has structures in place that act to protect anyone who uses the website especially the providers.
When registering with Escort-Ads, no IDs are collected, escorts are not obliged to verify their profiles but those who do choose to verify their profiles all verification information is immediately deleted from the servers and no backups are kept. It is the best way to ensure that advertisers are SAFE and can run their businesses without having to worry about a possible breach of data.
We are cautious about how we encrypt and store the data, we do not give out ANY information to third party companies, especially not for a company based in the US, so there is no chance data can be taken from us. We already updated our servers, and to protect you and your data even better we were migrating some data to a new hosting, where not only the servers are offshore (in Amsterdam, because the Netherlands has long been a leader in the battle for privacy and data protection) but all connected companies as well, so like this no data will be accessible in any way.
Consider locking your website for screened clients only.
If not the entire site, then donation pages.
You might want to check on archive.org to see if your site has been saved on the Wayback Machine. They will take it down and stop archiving it if you'd like, you just have to email and ask.
You can also take matters into your own hands directly, with robots.txt, it is a text file webmasters create to instruct robots (typically search engine robots) how to crawl & index pages on their website. You can block URLs with robots.txt. A robots.txt file is a file at the root of your site that indicates those parts of your site you don't want accessed by search engine crawlers.
Have a warning contract at the enter page to your site. Make it more detailed than just requiring viewers to be 18 plus.
State that money is a donation for your time only. That your site isn't a solicitation for prostitution in any form.
That they will not use your site or ads as a mean for entrapment or arrest.

(however, this will not stand up in court.)
Make sure it's clear that it's a contract that they agree to by contacting you.
Pay your taxes! Register your brand as a LLC so it's a legal business.
Communicate what is going on with your clients and friends so they are aware.
Strongly advise them to only communicate with you through encrypted methods such as ProtonMail. (protonmail.ch)
Never store your money in online US based accounts.
Do not post cell phone pictures from the hotel you are staying at unless there is nothing that identifies that room.
And please, don't panic. Be extremely careful, don't show your face right now, use a VPN at all times.
The current uncertainty surrounding SESTA and other US-based escort ad platforms has left many US providers wondering if their businesses will be around for much longer. Many of you think it's getting scary, and you are getting tired of trying to figure out new sites to advertise on. We are up, and functioning, and not going anywhere!
Advertising cost in the sex industry is so high. Some of the other websites prices are absolutely insane, some just doubled their advertising prices.
We are still very budget-friendly, and try to stay that way.
We still have a free ad option, and we offer some of the most cost effective adult advertising packages on the internet.
The Basic Ad package is only $6 per month.
SESTA/FOSTA passed the Senate. This bill is a bad digital policy and bad for the safety of sex workers.(hopefully it will get challenged in court)
We are here to support you!
Between now and March 31 when you buy any Featured ad package, you'll get an additional 50% off using the coupon code
SESTA
at checkout.
(on Escort-Ads and on EscortState)
Our customer support team is ready and available to help you with your account needs. To contact us you can call us at 1-917-732-2400, or you can send an email to [email protected].