May Newsletter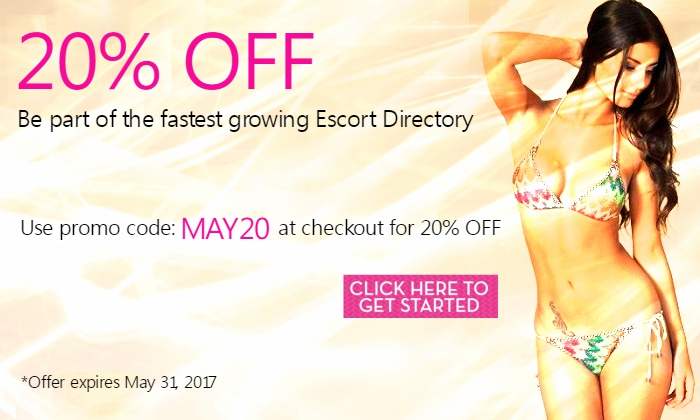 H
OW TO BOOST YOUR AD ON ESCORT-ADS?
So, you have created an account on Escort-Ads, and your free profile and ad is now published under your base city, but.....Your contact information is NOT visible with your free ad, site visitors can send you a PM, private messages.
Did you know that as an advertiser on Escort-Ads you are able to take advantage of valuable updates to your ad for FREE?
Log into

www.escort-ads.com

and update your ad to keep it fresh!

For our most successful advertisers these updates are part of their regular monthly routine

.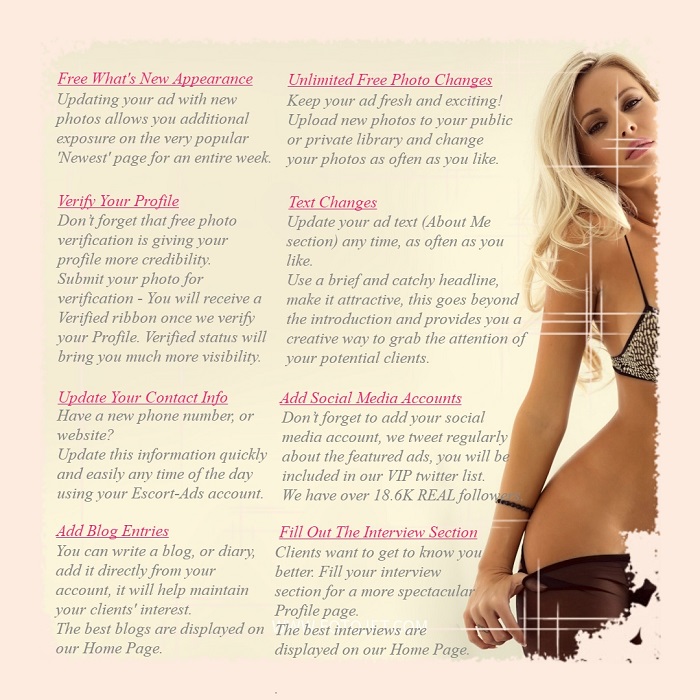 Keep in mind when your ad goes up, it starts at the top and then moves down
as newer ads follow. So, login daily, and update your ad frequently.
20% OFF Featured Entertainer Spots
Do not forget to take advantage of this month's promotional special as we are currently offering 20% OFF all Premier Entertainer spots this month – simply enter the promotional code
MAY20
upon checkout. Please do not hesitate to ask our customer service representatives for anything that we might be able to do to make your overall experience with Escort-Ads a satisfying one!
New Feature: Chat Live with our Customer Support Team!
Live chat allows you to use instant messaging to contact our Customer Services team via our website to receive instant assistance, allowing us to solve any problems or answer any questions you may have. Click "CHAT NOW" at the bottom of the page to access this feature.
It is only 4 months into this year and Escort-Ads has been hard at work improving our websites. We are happy to announce that we launched multiple sites in Canada, US, UK, and more updates will come very soon. Check them out!
EscortState -
https://www.escortstate.com
EscortsInCanada -
https://www.escortsincanada.com
EscortKingdom -
https://www.escortkingdom.co.uk
VerifiedEscortGirls -
https://www.verifiedescortgirls.com
EscortBargains -
https://www.escortbargains.com